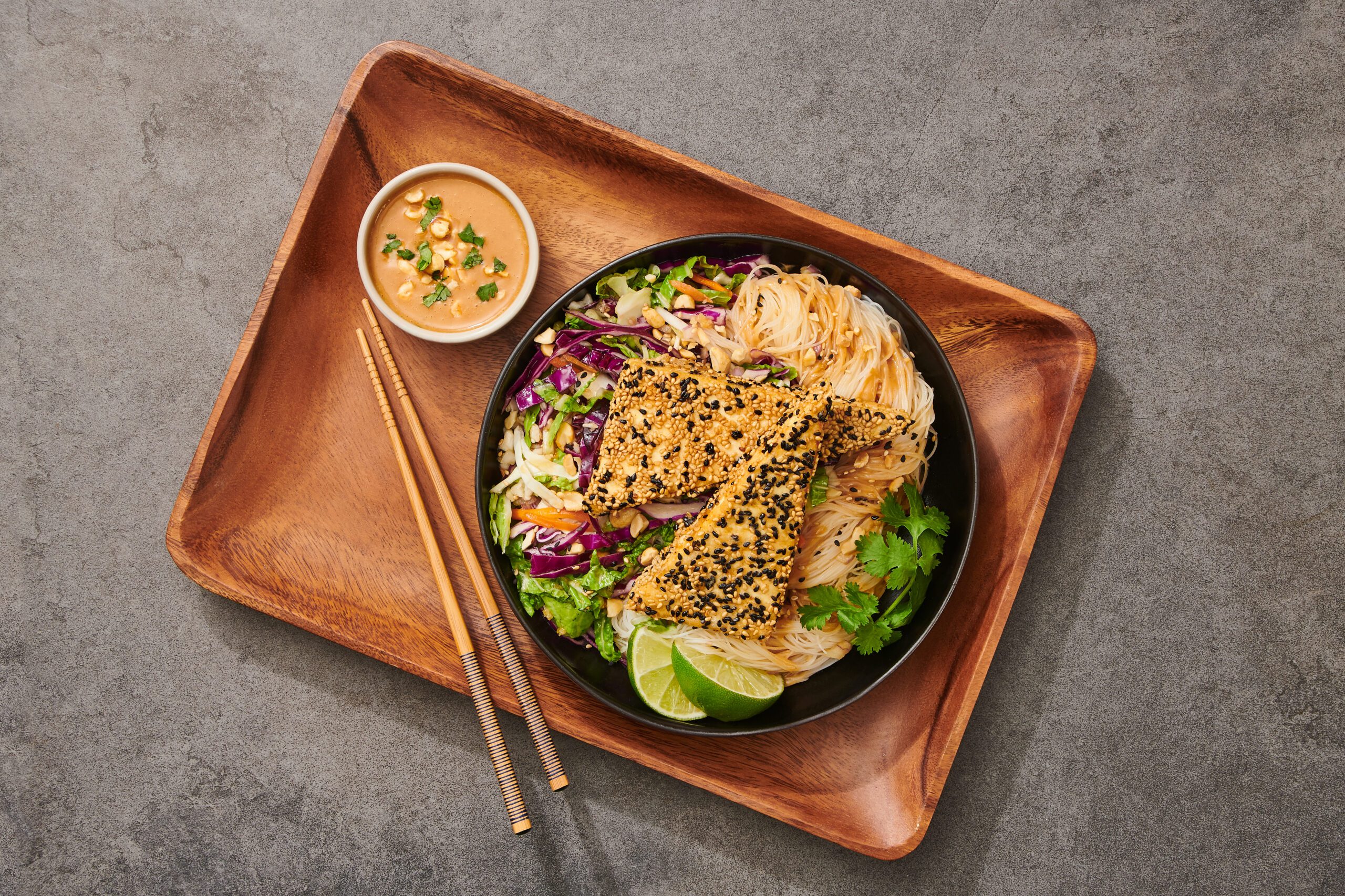 Best made with:
Sesame Crusted Tofu Noodle Salad
Extra Firm Tofu
Ethnic Cuisine
Dinner
Vegetarian
Ingredients
Marinade
| | |
| --- | --- |
| 1 | Shallot , diced |
| 1-2 | Garlic Cloves , minced |
| 3 tbsp | Soy Sauce |
| 3 tbsp | Asian Cooking Wine |
| ½ cup | Sesame Oil |
| 1 tbsp | Mirin |
Breading
Directions
Wrap tofu in paper towel and press excess water out by weighing down with a heavy pan for 10 minutes, removing as much liquid as possible.
Combine all marinade ingredients together in an 8×8" square baking pan. Slice tofu into thirds, making three rectangular "steaks". Then cut those diagonally to make triangles. Place in a single layer in the marinade, flip once and let sit 20-30 minutes.
Prepare for breading the tofu. Place the cornstarch in a shallow bowl or plate, large enough to fit the triangles.  Place the soy milk in another shallow bowl, and sprinkle some of the sesame seeds on a plate, reserving the rest to sprinkle over each piece.
Remove tofu from marinade, drain off excess liquid. Coat the tofu pieces with cornstarch. Then individually dip tofu pieces in the soy milk, let excess milk drain off and then place onto the plate of sesame seeds and sprinkle more on top. Set aside on a plate and repeat with remaining pieces.
Heat a large non-stick frying pan over medium-high heat, add 2 tbsp of sesame oil to the pan and place tofu triangles in hot oil. Do not overcrowd your pan, fry in batches if needed.  Flip slices over halfway through frying.
Serve with prepared vermicelli noodles, shredded napa cabbage, red cabbage, carrots, cilantro and peanut sauce.
Best made with: