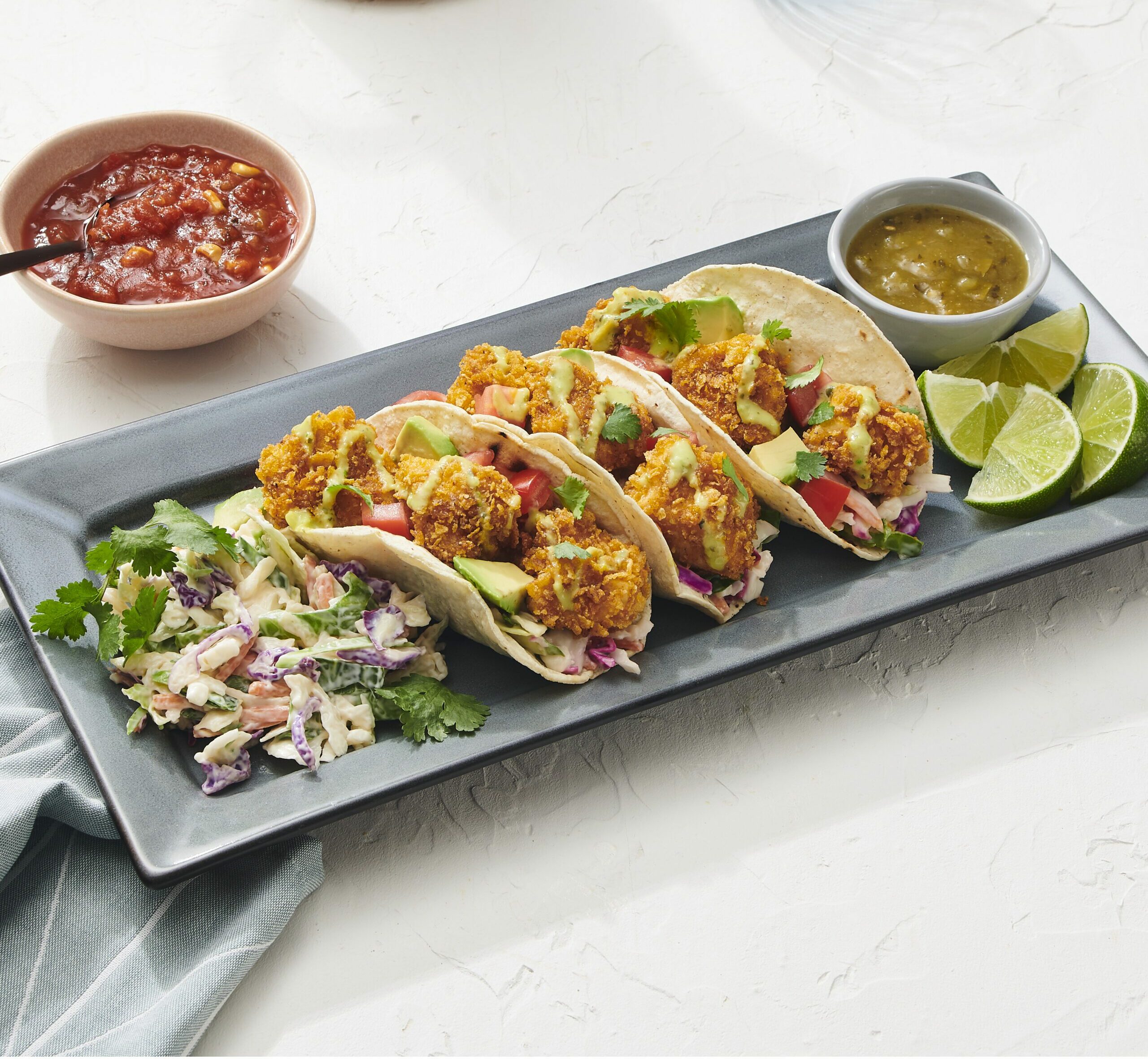 Best made with:
Korean Fried Tofu Tacos
Lunch
Medium Firm Tofu
Ethnic Cuisine
Dinner
Vegetarian
Kid Friendly
Ingredients
Marinade
| | |
| --- | --- |
| 1 | Shallot , diced |
| 1-2 | Garlic Cloves , minced |
| 2 tbsp | Soy Sauce |
| 3 tbsp | Rice Vinegar |
| 2 tbsp | Sesame Oil |
| 1 tsp | White Pepper |
| 1 tsp | Orange Zest |
| 1 tnsp | Brown Sugar |
| ½ tsp | Ground Sage |
| 1-2 tsp | Gochujang Paste |
Breading
Directions
Wrap tofu in paper towel and press excess water out by weighing down with a heavy pan for 10 minutes, removing as much liquid as possible.
Combine all marinade ingredients together in a medium size bowl. Tear tofu into large bite-size chunks and place in marinade, stir to coat well and let sit 20-30 minutes stirring occasionally.
Preheat oven (or air fryer) to 400°F. Prepare for breading the tofu.  Place corn starch in a shallow bowl.  Soy milk in another small bowl, and in a separate shallow bowl combine the cornflakes, smoked paprika, garlic powder and salt and pepper to taste.
Remove tofu from marinade, drain off excess liquid. Coat the tofu pieces with cornstarch. Then individually dip tofu pieces in the soy milk, briefly let drain off excess milk and then dredge in the cornflake coating. Set aside on a large baking sheet evenly spaced apart.
Bake at for 17-20 minutes, flipping over halfway through cooking. If air frying, set for 10-12 minutes, flipping over halfway through.
Serve with your favourite taco toppings!
Best made with: