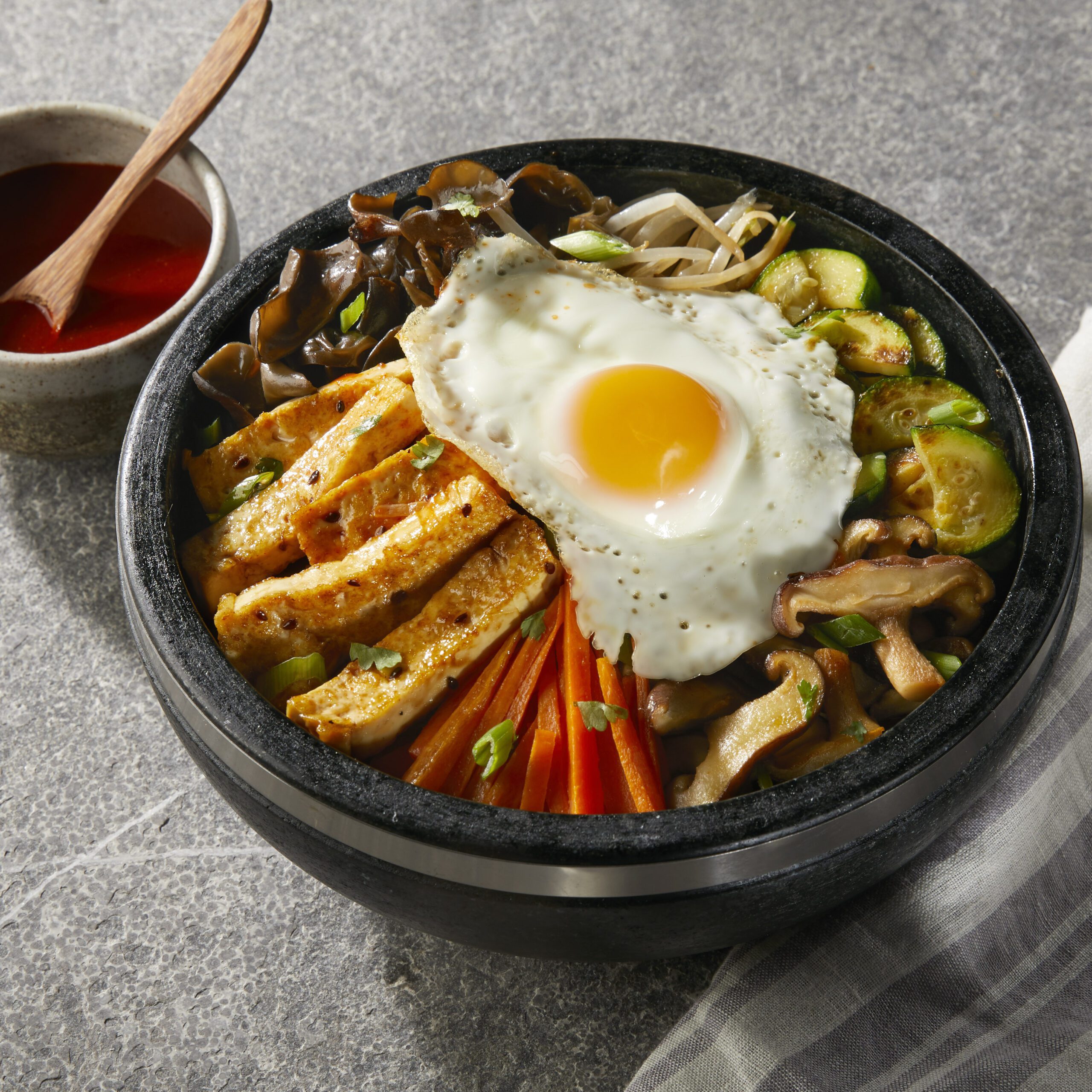 Best made with:
Korean Tofu Bibimbap
Medium Firm Tofu
Ethnic Cuisine
Dinner
Traditionally Bibimbap is served in a preheated individual stone bowl. Here we have modified the recipe for a family serving prepared in a large cast-iron skillet.
Ingredients
| | |
| --- | --- |
| 1 pkg | Sunrise Traditional Freshpack Tofu , cut into strips |
| ¼ cup | black rice |
| 2 cups | short grain white rice |
| 2¼ cups | water |
| ½ tsp | salt |
| 2 tbsp + 1 tbsp | sesame oil |
| ¼ cup | Korean BBQ sauce |
| ½ tsp | Korean Red Pepper flakes |
| 1 cup | carrot , julienned |
| 1 cup | soya bean sprouts |
| 1 cup | black fungus |
| 1 cup | Shitake mushrooms , sliced |
| 1 cup | zucchini , halved lengthwise, then sliced |
| 2 | eggs |
| 2 stalks | green onion , chopped |
| 4 stalks | cilantro , chopped |
| | Toasted sesame seeds for garnish |
Directions
In a saucepan, add the black and white rice, cover with cold water, rinse and drain several times until runs clear. Add the water and salt, bring to a boil, stir, then cover and reduce heat to low and simmer for 12-15 minutes or until water is absorbed. Turn off heat, stir and let rest 5 minutes covered.
While the rice is cooking, cut the carrots, shitake mushrooms, zucchini and black fungus, rinse the bean sprouts. Cut the tofu into 1cm wide strips.
In a large non-stick skillet, stir fry the vegetables in a tsp. of sesame oil separately for 2-3 minutes each. Placing each one aside once done.
In the same skillet, pan fry the tofu in sesame oil until light brown. Add the BBQ sauce and red pepper flakes, heat until warm and tofu is coated, about 2-3 minutes more. Turn off heat, leave in pan to stay warm.
Preheat your cast-iron skillet on the stove top over medium heat for 5 minutes or until very hot. Add 1 tbsp. of sesame oil, then the cooked rice, spreading out to make a base layer. Continue heating, rice will begin sizzling.
Arrange the sautéed vegetables and tofu on top of the rice in divided sections, cook for several minutes until it is sizzling.
Meanwhile fry the eggs in another pan sunny-side up until just done, with yolk still soft, place fried eggs on top of the vegetables and tofu.
Garnish with toasted sesame seeds, green onion and cilantro.
Impress your guests by serving the hot pan at the table, mix well until all ingredients are mixed through, scraping up all the delicious crispy rice from the bottom, divide between four bowls and enjoy. Serve with a traditional Bibimbap sweet and spicy sauce.
Best made with: