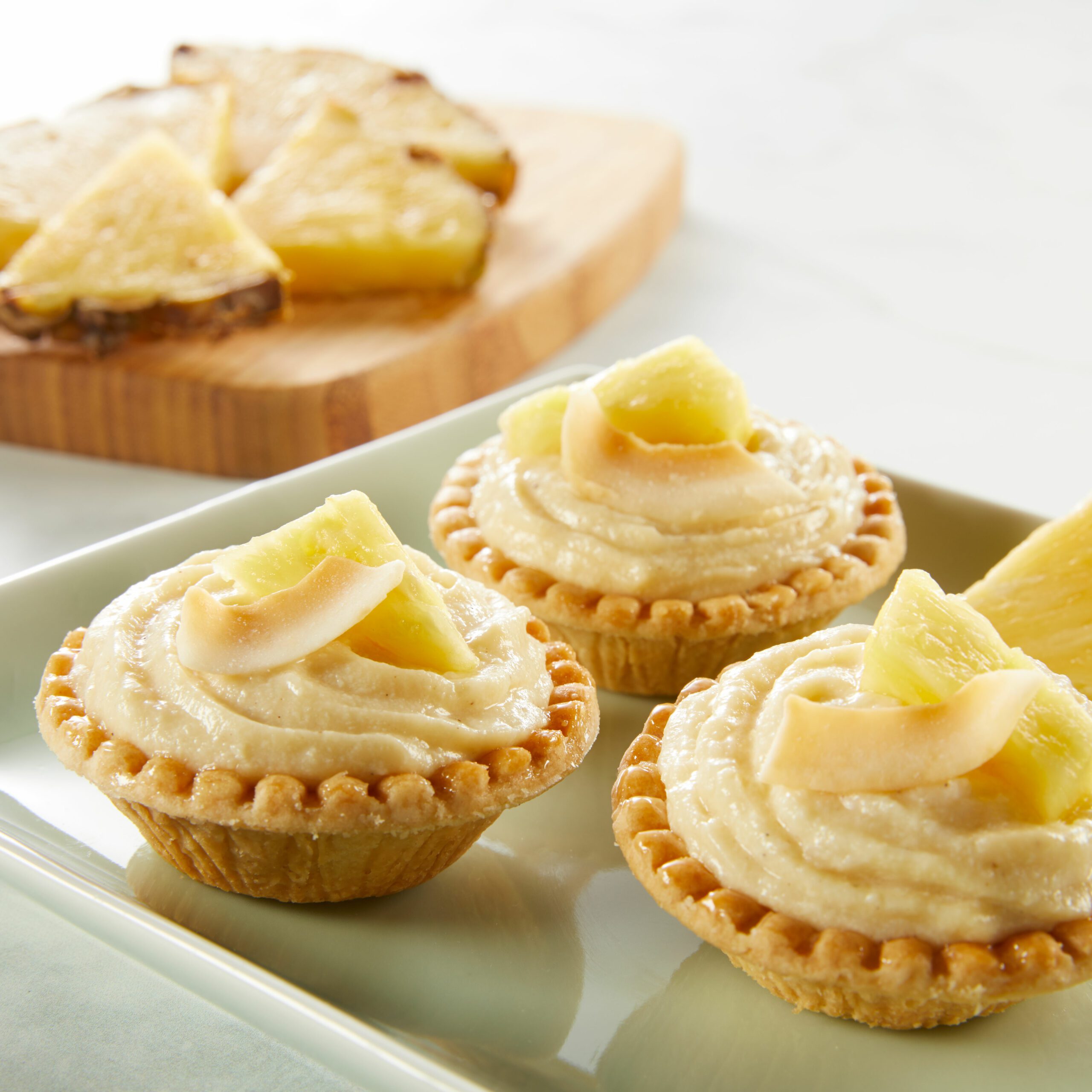 Best made with:
Pina Colada Tartlets
Mini dessert with tropical flavours.
Ingredients
| | |
| --- | --- |
| 1 pkg | Sunrise Soft Tofu |
| 12 shells | Ready to bake frozen tart shells |
| 3 | egg yolks |
| ¼ cup | sugar |
| 2 tbsp | all purpose flour |
| 3 tbsp | cornstarch |
| ½ cup | whole milk |
| 1 | vanilla bean , split lengthwise |
| ⅓ cup | shredded coconut |
| 2 tbsp | Rum, if desired |
| ½ cup | fresh pineapple , cut into chunks |
| | Toasted coconut shavings for garnish |
Directions
Thaw and bake empty tart shells according to package instructions. Let cool.
In a medium bowl, whisk together the tofu, egg yolks and sugar until well combined.
Sift the flour and cornstarch into the bowl with the eggs, whisking until smooth.
Add the milk to a medium saucepan. Scrape the vanilla bean seeds into the milk then add the scraped bean to the saucepan. Bring to a boil over medium heat just until the milk starts to foam.
Remove the milk from the heat, take out the vanilla bean and then slowly whisk the milk into the egg mixture, whisking constantly to prevent curdling.
Pour the mixture back into the saucepan, set over medium heat. Add in rum, if desired. Cook it, whisking constantly, until it comes to a boil. Once it boils, continue whisking constantly for an additional 60 seconds until it becomes thick. Stir in shredded coconut.
Immediately pour the mixture into a separate bowl and cover it with plastic wrap on the surface to prevent a skin from forming. Refrigerate until cool.
Once the pastry cream is cool whisk it to remove any lumps then pour, (or pipe with a star tip) into the cooled tart shells. Top with pineapple and toasted coconut. Serve immediately or store in refrigerator. Best eaten same day. Filling and tarts can be made ahead and stored separately. Fill shells and add toppings right before serving.
Best made with: