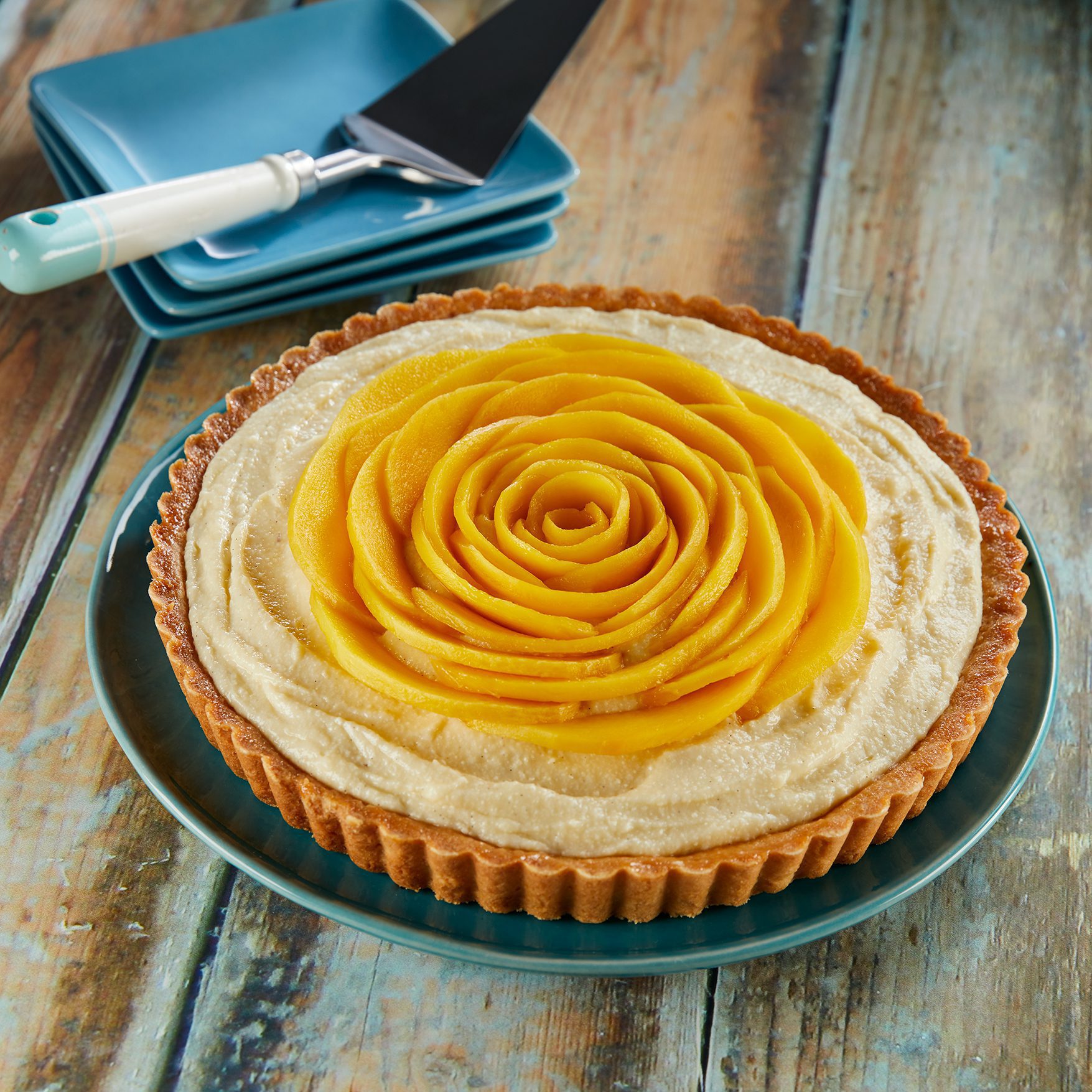 Best made with:
Mango Tart
Custard tart topped with fresh mangoes. *This recipe was recreated and inspired by our contest winner, Marie.
Ingredients
| | |
| --- | --- |
| 1 pkg | Sunrise Soft Tofu , blended |
| 1 cup | all purpose flour |
| ⅓ cup | icing sugar |
| 1/8 tsp | salt |
| ½ cup | unsalted butter , cold and cubed |
| 3 | egg yolks |
| ¼ cup | sugar |
| 3 tbsp | all purpose flour |
| 3 tbsp | cornstarch |
| 1 cup | whole milk |
| 1 | vanilla bean , split lengthwise |
| 3 | large mangoes , cut into thin slices |
Directions
Grease a 9" tart pan (with removable bottom) with butter. In a food processor, pulse together the flour, sugar and salt. Add the cold, cubed butter and pulse until the butter is incorporated and the mixture is a crumbly texture.
Transfer the dough into the tart pan, and using your fingers, press the dough into the pan in an even layer to form the base and sides of the tart crust. Using a fork prick all over the bottom of the crust. Place in freezer for 15min before baking. Preheat oven to 425F.
Place tart pan on a baking sheet. Bake for 13 to 15min or until its golden brown. Remove the crust from the oven and allow to cool completely in the pan. Once the crust has cooled completely, carefully push the bottom of the pan up to release it from the sides. Place the tart shell on a serving dish and then prepare the filling.
In a medium bowl, whisk together the tofu, egg yolks and sugar until well combined.
Sift the flour and cornstarch into the bowl with the eggs, whisking until smooth.
Add the milk to a medium saucepan. Scrape the vanilla bean seeds into the milk then add the scraped bean to the saucepan. Bring to a boil over medium heat just until the milk starts to foam.
Remove the milk from the heat, take out the vanilla bean and then slowly whisk the milk into the egg mixture, whisking constantly to prevent curdling.
Pour the mixture back into the saucepan, set over medium heat. Cook it, whisking constantly, until it comes to a boil. Once it boils, continue whisking constantly for an additional 60 seconds until it becomes thick.
Immediately pour the mixture into a separate bowl and cover it with plastic wrap on the surface to prevent a skin from forming. Refrigerate until cool.
Once the pastry cream is cool whisk it to remove any lumps then pour into the cooled tart shell. Arrange the mango slices on top, starting from the center and then fanning them outwards to mimic flower petals. Store in refrigerator until ready to eat, best eaten same day.
Best made with: